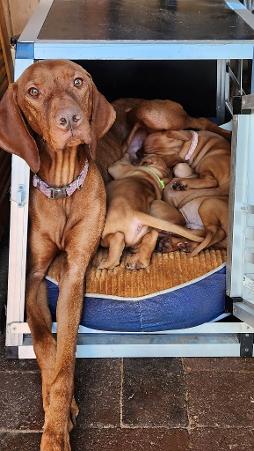 Hungarian Vizsla's puppies both 1 Male and 1 Female available
NOW
Born 25-5-2923
all enquires welcome

BEST TO TEXT OR EMAIL YOUR DETAILS

gonnylde2@gmail.com

Dianne : 0417-959-264 : "Please leave a message I will return your call"

Both Tara and Thor have the sweetest nature. Tara and Thor are available to be viewed.

Welcome to come and visit we are located in Murray Bridge.

If you are interstate I am happy to drop off at ADELAIDE airport for you.

Puppies come with a life time support.
If interested
please email Dianne : gonnylde2@gmail.com
sometimes a little hard to contact but please be patient.
It has been overwhelmed with all the enquires
PUPPIES
* All our pups come with pedigree papers ANKC approved as this is part of our constitution with Dogs SA (Limited ONLY ) Not for breeding or showing to be desexed in SA under the dog and cat management laws.
Your puppy is transferred into your name.
* If you still think you want a Main Pedigree please contact me to discuss your situation
* A holding fee of $700.00 is only taken once pups are born.
* Pups are 90 percent toilet trained and come to a whistle by the time they leave for their new families.
* Our pups are all Microchipped and vet checked, under Dogs SA rules
* Every pup has its own information pack emailed Part 1 & Part 2, toys, treats and a comfort blanket
* New puppy owners are welcome to visit if possible.
* Pups are wormed every 2 weeks, from birth, with a follow up treatment sheet for worming and vaccinations to take to there new home/family
* Vet checked at 6-7 weeks given there first Vaccinated with C3.
* The progress, development and pictures is now on our Private Facebook group page, this is were picture and update can be seen.
* Only people involved with the litter will be on this group.
* After taking your new puppy home you are still most welcome to contact me if you need any support or just to have a chat. Also send pictures of your puppy please.
If you find you are not managing please contact me and I will do my best to help you.
FOR MORE INFORMATION PLEASE CONTACT ME VIA
email: gonnylde2@gmail.com
Phone 0417 959 264
Contact details
GONNYLDE KENNELS
South Australia
Contact :- gonnylde2@gmail.com
Alternative :- 0417 - 959 - 264