Copy write 2017
on this site nothing is to be copies as is the property of Gonnylde Kennels
Australian Champion Gonnylde Auckland Islands
Iris is a very relaxed and happy girl, only doing things when ready
Iris loves the park and play time with some German Spitz her friends and companions at some Shows.
We have missed a few shows early in Iris show career.
Iris has taken out : Minor is Show at the Hungarian Vizsla Champ show 2015
: Minor is Group at David Roche Park 2015
Junior in Group at Naracoorte 2015
Junior in groups at Port Pirie 2015
State Breed in SA Hungarian Vizsla Championship Show 2016
She just enjoying her time in the show Miss relaxed 24/7.
Just loves people and other dogs that will play
IRIS " I am very happy to report that Aust Ch Gonnylde Auckland Islands has gained her Australian Campion title. At the age of 15 months
Thanks to the people involved in achieving IRIS and her title, Kylie, Darcy, Opaishash, Rae, Joanne, Codey and Jasmine and all that I have forgotten
Iris is a very calm and relaxed girl, loves everyone and a happy girl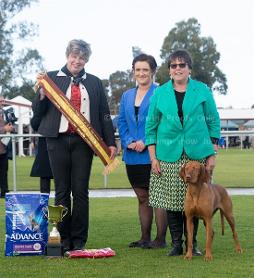 IRIS (
Aust Ch GONNYLDE AUCKLAND ISLAND )
At the Hungarian Vizsla championship show 2016 handled by Jasmine and did an excellent job for her first time.
Iris is a very laid back girl and the easiest one to live with. She just fits into anything that is happening with no fuss. Love this girl