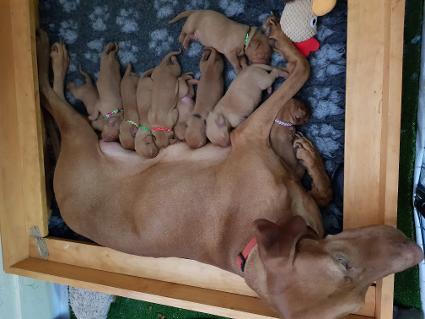 NOTHING AVAILABLE AT THIS STAGE
HUNGARIAN VIZSLA'S
BEST TO TEXT OR EMAIL YOUR DETAILS
: vizslagonnylde@gmail.com
Dianne : 0417-959-264
If interested
please email Dianne at vizslagonnylde@gmail.com
sometimes a little hard to contact but please be patient
PUPPIES
* All our pups come with pedigree papers as that part of our constitution with Dogs SA ( Limited ONLY )Not for breeding and not for showing
* A holding fee is only taken once pups are born holding fee is none refundable.
* Pups are 90 percent toilet trained and come when whistled
* Our pups are all Microchipped under Dogs SA rules
* Every pup has its own information pack, toys, treats and a comfort blanket also a usb stick of photo's from birth.
* New puppy owners are welcome to visit
* Pups are wormed every 2 weeks, from birth, with a follow up treatment sheet for worming and vaccinations
* Vet checked at 6 weeks and first Vaccinated with C3.
* Emails are sent out as progress reports weekly with the puppies development and pictures (I have set a group page on facebook for progress)
* After taking your new puppy home you are still most welcome to contact me if you need any support or just to have a chat and send pictures of your puppy please.
If you find you are not managing please contact me and I will do my best to help you.
FOR MORE INFORMATION PLEASE CONTACT ME VIA
email: vizslagonnylde@gmail.com or 0417 959 264
Contact details
GONNYLDE KENNELS
South Australia
Contact :- vizslagonnylde@gmail.com
Alternative :- 0417 - 959 - 264